Original Pieces by an
Award-Winning Art Quilter
"The woman who works with her hands only is a laborer.
     The woman who works with her hands and her heart is a craftswoman.
     But the woman who works with her hands, her head and her heart is an artist".
St. Francis of Assisi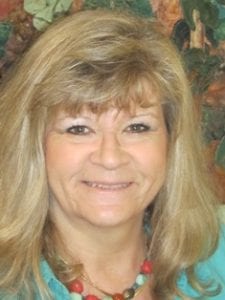 Raised in Minnesota, Barb inherited a love of the great outdoors from her father and sewing skills from her mother, a professional seamstress for over 50 years. Barb started sewing at age 12.  She earned a Bachelor of Fine Arts degree from the University of Missouri with an emphasis in graphic design and art history.  Being of French descent, she loved the Impressionists.  She dabbled in watercolors and learned to build an interesting composition from her father, an amateur acrylic painter.
Barb has always worked in the world of visual arts, with more than 20 years experience in retail merchandising and display. For more than 10 years, she sold her original, one-of-a-kind folk arts dolls at arts and craft shows around the country.
But in 1998, while working part-time at a local quilt shop, Barb learned the steps of traditional quilting.  She quickly took her new found medium to the next level when she discovered raw-edge appliqué, developing her own impressionistic style, using bits and pieces of fused batiks to create distance, depth and details.
By 2006, she had earned the first of many blue ribbons at the Arizona Quilters Guild annual competition.  Whether her art quilt is a pictorial or a collage, pieced or appliquéd: her friends will tell you, Barb's work is all about the story.  Each piece reveals her love of ancient cultures, Native American iconography, and Arizona's history. Travels with her family and friends transform the stories of far away places into inspiration for new appliqued works of art. Although the Art of landscape quilting is still her passion, you can occasionally find a traditionally pieced quilt with an African theme on her design wall.
Barb is an active member in a number of local quilt guilds. Barb is also a member of S.A.Q.A. (Studio Art Quilt Associates), AQS, IACP, and the Arizona Quilters Guild. She was an essential part of the design team for the two-sided Arizona Commemorative Centennial quilt and dedicated her time and talents to that project for nearly two years.
Barb teaches her students to "Think like a painter, Create with cloth" in lively and informative classes and workshops. She explains the rules of good design and shares her innovative techniques that inspire participants to create their own unique art quilts. Some of her students have become award-winners themselves.
Like many of you, Barb Janson is a wife, a mother and a grandmother.  She is a caregiver for her mother, who at 96 is still dedicating herself to others through her needle, quilting and crocheting for charity.  Barb says" I am so proud to carry on a tradition that has been a part of my family for 5 generations".
Thank you for visiting my website! Come back often to see
my latest work and learn about new workshops!